The all-new, fully-customizable dashboard!
We're excited to announce another giant leap forward in what makes Magnetracks the most flexible platform on which to manage your music! With the release of a fully-customizable dashboard, YOU decide what information is most important to have handy when managing your music pitch activity, music catalog, projects, licensing and collaborators.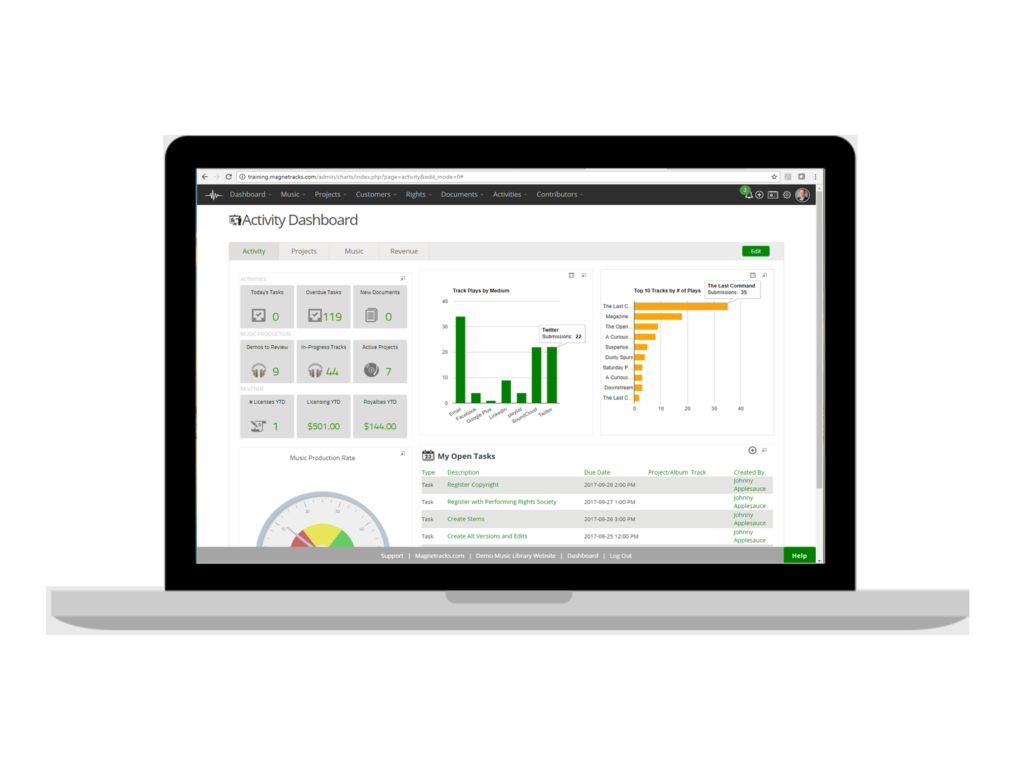 Quickly and easily choose from a wide collection of charts, lists, and other goodies, and build your own dashboards in moments. With this new update, every Magnetracks (non-artist) user can now:
Select from a catalog of pre-built charts, QuickLists, and a growing collection of interactive music industry widgets like:

Direct logins to your ASCAP, BMI and SOCAN member sites,
the Music Production Rate speedometer (very cool!)
Artist Rankings by Genre
Project Assignments by Artist
Social Network Activity
and a couple dozen more!
Easily drag-and-drop a component anywhere onto one of four dashboard tabs: Activity, Projects, Music, Revenue.
Drill in for more details on any component by clicking on it.
Let the Notifications bar alert you of time-sensitive things like:

project deadlines
Messages from your artists or team members
Soundcloud, Box and social network plays.
Licenses about to expire, and more…
Uh-oh! Did you go a little too far with your changes and now you've messed things up? Just reset to go back to the original layout and start again!