The Magnetracks Story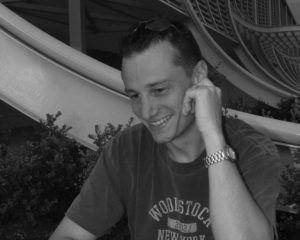 Hi. I'm Eliot. Yes, I'm the founder of Magnetracks, but really I've been a composer/artist/producer/studio owner/do-whatever-it-takes-to-make-a-living-in-music guy for most of my life.
I spent the first ten years or so of my journey behind a mixing console building a commercial recording business. This sounds exciting on the surface, until you realize that this means endless late nights making EDM remixes of Indian Bhangra (and not understanding a single lyric), or counselling high-school-aged rock bands that "yes, tuning your instruments IS actually important!", or driving 45 minutes in the snow in the early 90's to the next nearest CD burner to get a master burned and mailed out to the label in the morning when my CD writer packed it in. Anything to keep the client happy, I'd repeat to myself…
Then there were the lean times when I basically locked myself in a room and set a goal to produce a cue a day to pitch to various callouts from Taxi and a half dozen A&R services and music libraries that had me on their massive composer mailing lists. There were some successes, but mostly it felt like randomly shooting a slingshot into the sky and hoping you hit a bird!
But day by day, bit by bit, I'd begin to earn peoples' trust, and with that came access to better quality opportunities.
Fast forward a bunch of years, and I'm Creative Director of a group of 20+ talented composers that crank out production music for various music libraries, each with unreasonably tight deadlines and ambiguous requirements ("we wanted Rock Country, but these tracks sound more like Country Rock!"). Having to be the middle man between a demanding publisher and a couple dozen writers usually working 'on spec' really tests your commitment and ones ability to deliver hard news (and then sheepishly ask for remix #19).
// What It Takes to Succeed in Music //
Through this journey, I've learned a few things. Firstly, that patience, perseverance, flexibility and the art of relationship building are EASILY as important as raw musical talent. More specifically, I've also have noticed that what separates those that get somewhere in music and those that get passed by and forgotten, come down to a few practical characteristics:
1) Amateurs are easy to spot and eventually get weeded out. Do you act like a professional? Always?
2) People naturally want to work with people that have their you-know-what together. Are you as organized and efficient as humanly possible?
3) Opportunities in the modern business are everywhere. Are you capitalizing on them to the fullest of your ability?
4) Your music catalog is your greatest asset. Are you treating it like it is?
// Magnetracks is Born //
The gradual realization of the above "golden rules" is what really gave birth to the Magnetracks platform. It occurred to me that as a community of creatives and artists we have been totally under-served by technology that we can rest our little musical empires on. I wondered why there no system that is purpose-built for music that borrows from the best big-business platforms meant for customer service, sales, marketing and finance?
Whether we want to admit it or not, music is a business, and with that comes all the non-creative "stuff" that eventually will separate a hobbyist from a professional. Magnetracks has been created with exactly that goal in mind. We've built an unreal set of tools for musicians and artists like you that gives every advantage you can get when it comes to managing your catalog, personal relationships, promotion and music deliveries like a pro. When you're on the receiving end of a musical transaction that involves a Magnetracks user, you know they take their business – and your relationship – deadly seriously.
After a 20+ year learning curve, I'm confident Magnetracks can and will be your catalyst to success in this business of music, whatever your angle and whatever your stage of the journey. How do I know? I've lived it!
Cheers,
Eliot Pister
President
Greengate Media (makers of Magnetracks)