Public Search & Licensing Site

Your storefront for promoting and licensing your catalog

Make your catalog available to content creators, music supervisors and other licensees worldwide with a dedicated, public-facing search site YOU manage. No commissions, no additional fees, and no rules. You set the terms, pricing, and control access.

Included with your Magnetracks subscription.

Learn More
Centralize your music catalog

Metadata, audio & documents all in the same spot... finally.

One cohesive system for all your music's metadata, mixes, stems, documents and activity. Powerful search tools to edit, search and filter on any field make it incredibly easy to get what you need quickly.

Plus, with no track count limits and generous storage allowance, there's no reason not to get EVERYTHING into Magnetracks.
Playlists and Pitching

Create beautiful branded playlists that get attention

Give your clients an experience that makes it easy for them to listen, download, save favourites and share comments. Magnetracks captures every action so you know what your clients like before they even ask.

Instant notifications tell you when your playlist is being reviewed and by whom, helping you act proactively to engage them.
Built-in Distribution

Distribute to 40+ of the world's biggest music services like Spotify, Amazon, Apple Music

Once you've used Magnetracks to do all the heavy lifting required to get music ready for release, why should you have to then go to a standalone service just to distribute those tracks? With Magnetracks, it's all built in.

With a Team or Business Edition account, you can publish your releases onto Spotify, Apple Music, Google Play and whatever new services pop up tomorrow - all without leaving your catalog. Plus, all the valuable sales and streaming data is integrated right into your dashboards.

Learn More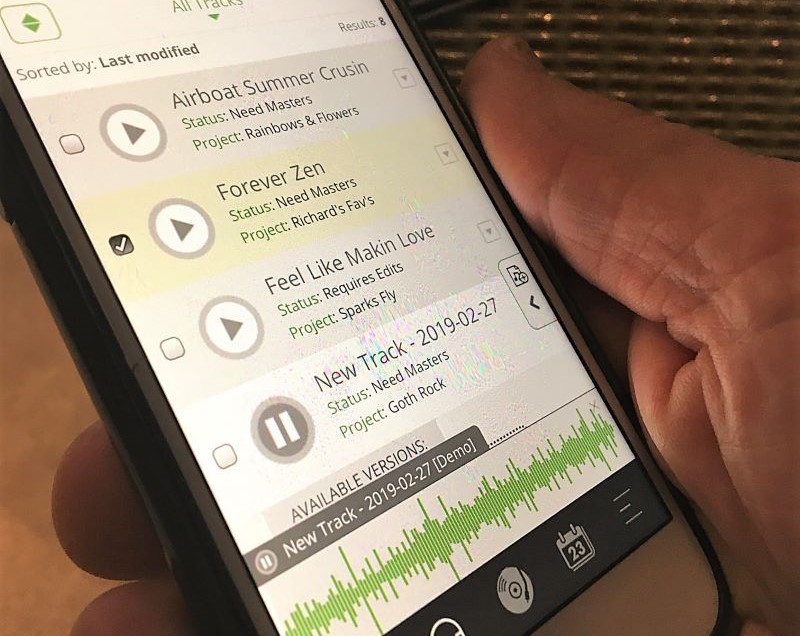 Mobile Freedom
Your entire musical empire within reach of your thumbs
With all your music in the Cloud, Magnetracks makes it so easy to share, license, distribute and promote music - to industry or to your fans. But even better, Magnetracks is on your phone too! Search music and react to opportunities faster than ever with the freedom of Magnetracks Mobile.
Streamline your music releases

Your production projects and contributors can now perform in perfect harmony.

Your industry relationships are forged through your ability to deliver. Magnetracks gives you the tools you need to set and meet deadlines every time. All aspects of your production process are maintained through an easy drag-and-drop interface designed to keep everybody focused, in-sync and on time.
Request the complete Magnetracks feature list
There is so much about Magnetracks we want to introduce you to. Request access to the constantly-expanding PDF list of features.
Build your network

CRM features to grow your network. Sales pipeline management and quoting to leverage it.

Ever lose track of what songs you've pitched to whom? Or when that publishing deal with Killer Hits Music expires? You can frantically search your email sent box (again), or you can find everything you need to know in Magnetracks.

Knowing the history of every contact or company you work with strengthens your credibility - and your relationships.
Sales and Licensing

Track your music licensing opportunities, generate quotes, and close more deals

Combined with the easy-to-use playlist and pitching features, with our Business Edition you can track every opportunity to license your music and forecast more effectively. A familiar sales pipeline like you'd see in purpose-built CRM systems helps you focus on the ones that are most likely to happen.

You can also create quotes - complete with detailed terms and varying pricing scenarios - and send them to your clients.

Magnetracks puts companies that are focused on licensing their catalogs firmly in the driver's seat.
Manage your live shows

Schedule, promote and simplify all the moving parts

With Magnetracks, your gigs live right where your music and your network is. No need to jump from one system to another to build your setlists and engage your fanbase.

Everybody involved has one place to update their tasks, manage documents, connect with your guests, and promote the show.
Collaborate and Connect
Source music from your network or collaborate with other artists
Artists can collaborate easily with contributors by sharing in-progress ideas, conversations, contracts and master files. Libraries and publishers can post briefs to their entire network and invite pitches from other artists. Magnetracks makes it easy no matter your size and situation to simplify the back and forth. from demo to release-ready master.

Kiss email folders and spreadsheets goodbye forever.
Dashboard Analytics

With a totally customizable dashboard that gives you instant answers about your music catalog, pitches, licensing, royalties and all your music production activity, who needs boring reports and spreadsheets?

Oh yeah, we do those too...
Sign up for free!
There's just no substitute for a test drive. Try Magnetracks for 30 days with no obligation and no credit card.
Integrated with your world
Magnetracks connects you to the apps you use every day.