Features designed for music professionals. Not for playtime.
Ready, Set... Monetize!
Distribute your music releases through the world's biggest streaming services.
Once you've used Magnetracks to do all the heavy lifting required to get music ready for release, why should you have to then go to a standalone service just to distribute those tracks? With Magnetracks, it's all built in. Get your tracks onto Spotify, Apple Music, YouTube and whatever new services pop up tomorrow!

Plus, all the valuable sales and streaming data is integrated right into your dashboards, putting you in the proverbial driver's seat.

Your entire musical empire... wherever YOU are.

Having all your in-progress and release-worthy masters, edits and alts mixes in the cloud, Magnetracks makes it so easy to share tracks and ideas with your co-writers, or fans through social channels.

Plus, with quick and easy searching and the ability to send out custom playlists, your pitches just got a heck of a lot easier too.

And it gets better... Magnetracks is also optimized for your mobile device! This means pretty much anything you do on your laptop, you can do with your thumbs.

No apps to install or update, and no additional cost.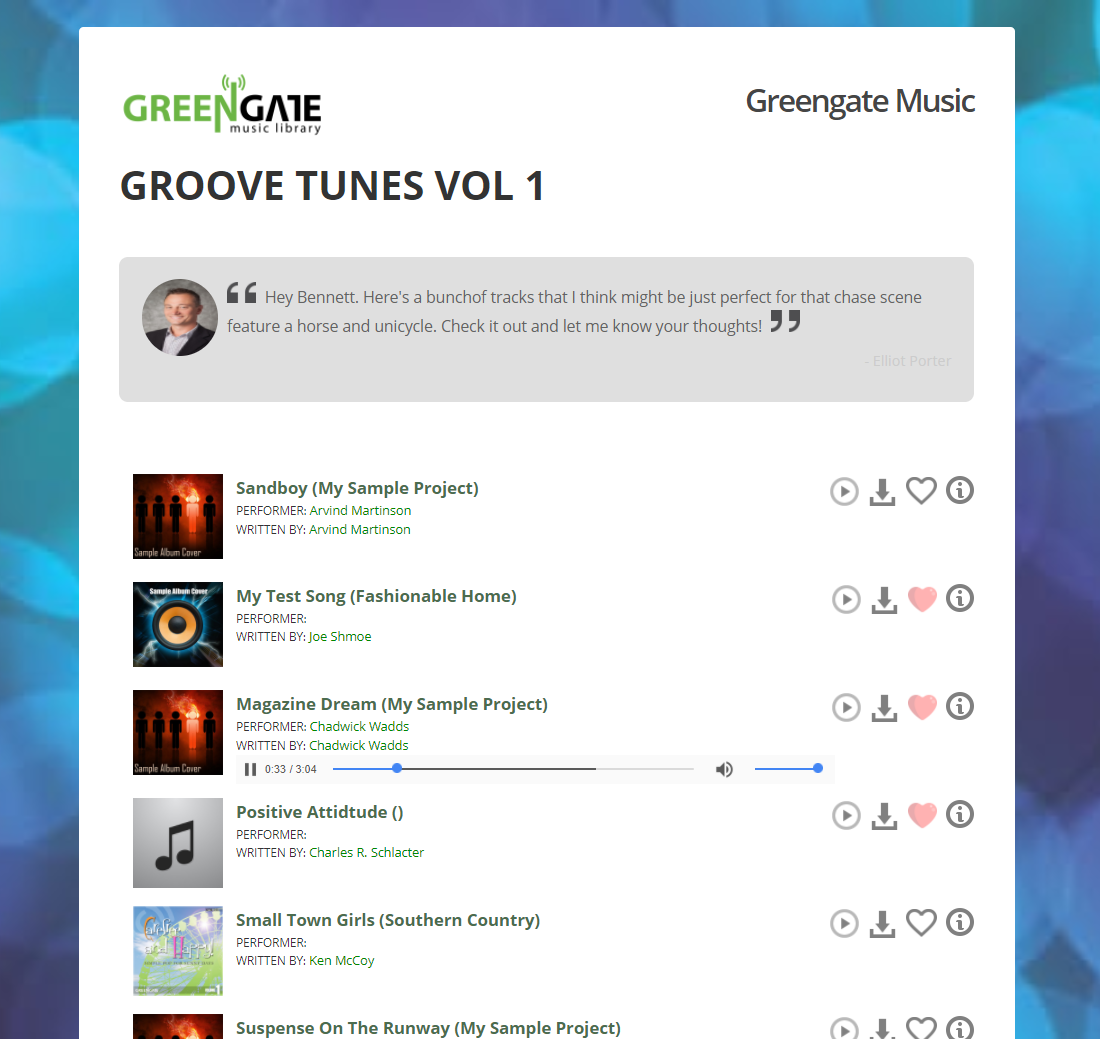 Playlists and Pitches made easy
Effortlessly create branded playlists and monitor their activity.
Beyond just saving your pitch history, Magnetracks captures every play, download, favorite and page view so you know what your clients like before they even ask.

Instant notifications tell you when your playlist is being reviewed and by whom, helping you act proactively to engage them.
Get the complete Magnetracks feature list
There is just too much stuff we want to tell you about. Request access to the constantly-expanding full list of Magnetracks features.
Dashboards that are music to your eyes
Make your music production and promotion decisions based on facts, not hunch.
With a totally customizable dashboard that gives you instant answers about your music catalog, pitches, licensing, royalties and all your music production activity, who needs boring reports and spreadsheets? Oh yeah, we do those too...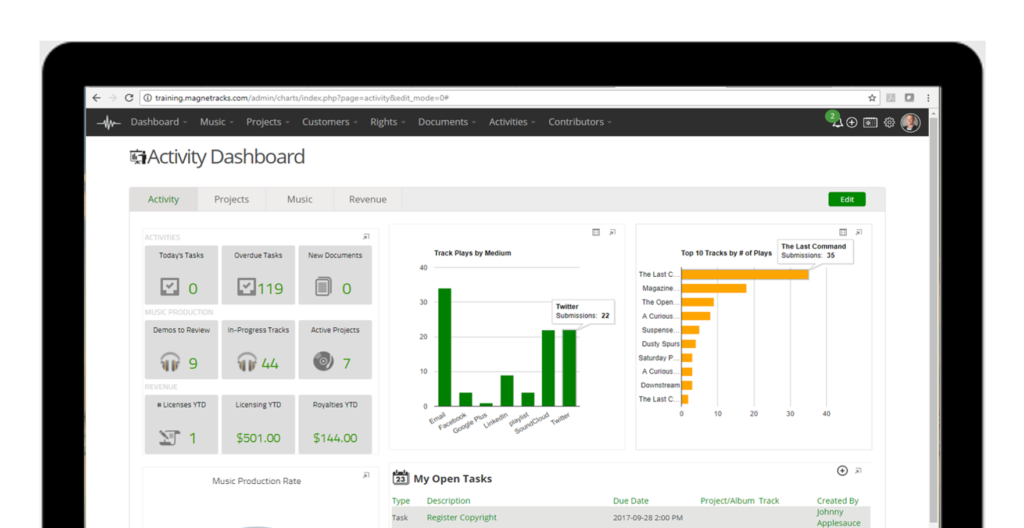 Manage your Bookings
With Magnetracks, whether you're managing multiple acts or just yourself, you've got all the tools you need to schedule your upcoming gigs, promote them, and take care of all the moving parts involved in pulling off a killer show!
Streamline your music releases

Your music production projects and creative contributors are in perfect harmony.

Your industry relationships are forged through your ability to deliver. Magnetracks gives you the tools you need set and meet deadlines every time.

All aspects of your production process are maintained through an easy drag-and-drop interface designed to keep everybody focused and in-sync. Post a project, invite submissions from your network, review demos, assign and complete tasks and capture all the paperwork in one place.

Done and done.

A&R Simplified

Bring structure (and sanity) to your music submission and review process

With the ArtistPortal (included in Business Edition), all your contributing artists have a direct login to submit demos, upload required contracts, and receive review feedback. You set the project requirements up front and do the actual reviews, and let Magnetracks keep the writers informed when the status of their submission changes; sending auto-emails and project updates.

Kiss email folders and spreadsheets goodbye forever.
Integrated with the things you love
Magnetracks connects you to the apps musicians use every day.

Start your free trial now
There's just no substitute for a test drive. Try Magnetracks with no obligation for 30 Days.
Get to know your clients and rightsholders

Full-featured CRM tools capture all your activity, deals and promotional efforts

Ever lose track of what songs you've pitched to what music library? Or when that publishing deal with Killer Hits Music expires? Wondering when you last heard from that awesome session vocalist you did some tracks with?

You can frantically search your email sent box (again), or you can see everything you need to know from their history in Magnetracks. Just watch your industry relationships become stronger.